File Number Bucket Management
File number bucket
V6 is highly configurable regarding numbering and using a "bucket" of numbers is one of the options set by operation. A file number bucket is a predefined group of file numbers to be used when creating a new file. If an administrator has defined a bucket of file numbers to be used when creating a new file, users cannot define their own file numbers, but must use (generate) a new file number from the predefined file number group (bucket) available.
To administer file number buckets select the Admin->Organization->File Number Buckets tab in menu on the left hand side of the screen: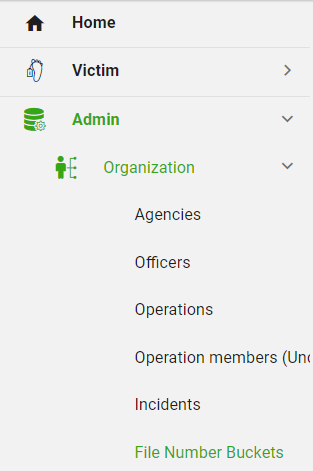 Then select which agency to administer in the drop down box in the top left corner:

Create bucket
Click the + ADD NEW button to create a new file number bucket.

Fill in the required fields
Short Name: maximum length is 10 characters
Agency name
AM file numbering method
AM mask (e.g. AM"Countrycode"-0000)
PM file numbering method
PM mask (e.g. PM"Countrycode"-0000)
PUI file numbering method
PUI mask (e.g. PUI"Countrycode"-0000)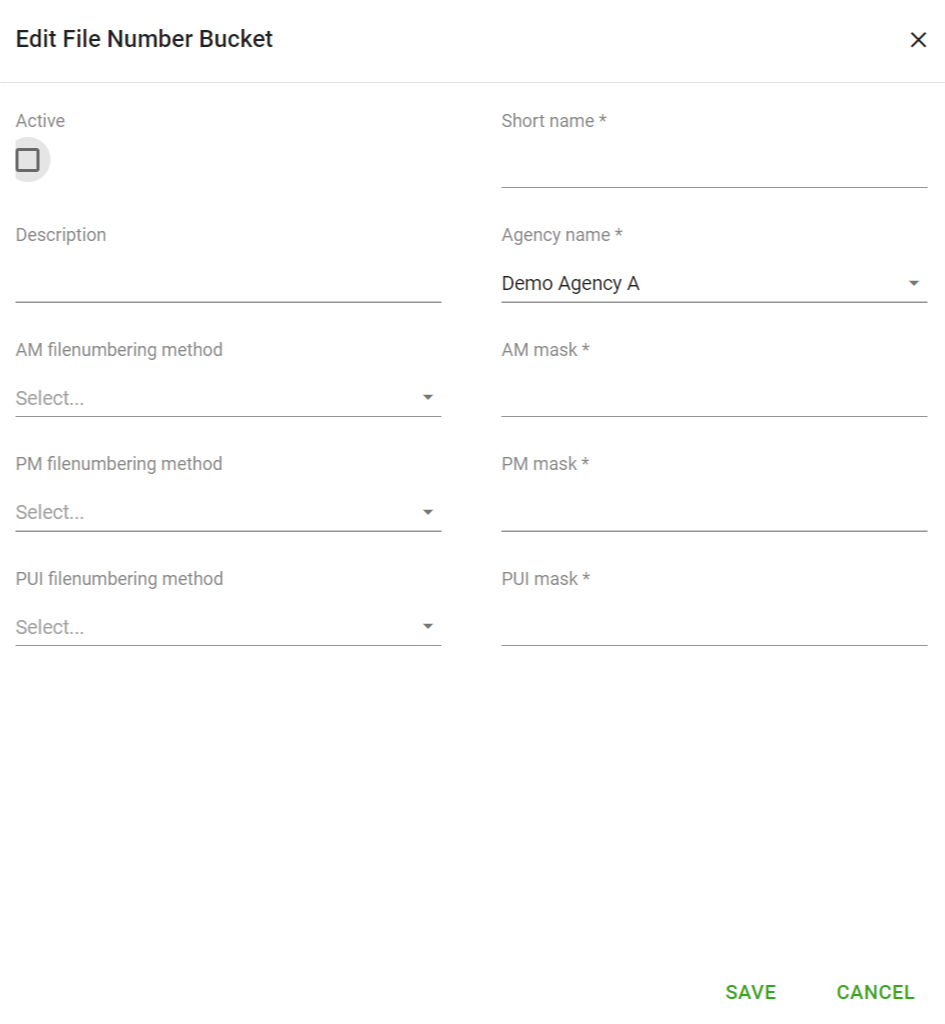 and click on "Save".
NOTE: The creation of the bucket is leaving the bucket without any file numbers. To fill the bucket with file numbers see Fill Bucket.
File numbering methods
When creating/editing a file number bucket you can choose between 3 different file numbering methods:
Bucket
Mask (enforces user to use exactly this mask/file number structure)
Mask recommend (is a gentle recommendation to use this mask/file number structure when creating a new file)
Fill bucket
To fill a file number bucket with file numbers (if the bucket has just been created or all bucket file numbers have been used) click the FILL BUCKET button:

and then fill in
File kind
File kind prefix
Country dial code
Range start
Range stop
Minimum digits
Scene Reference

Click the green FILL BUCKET button to fill the bucket with the group of numbers just defined above and see a list of the file numbers now available in the bucket: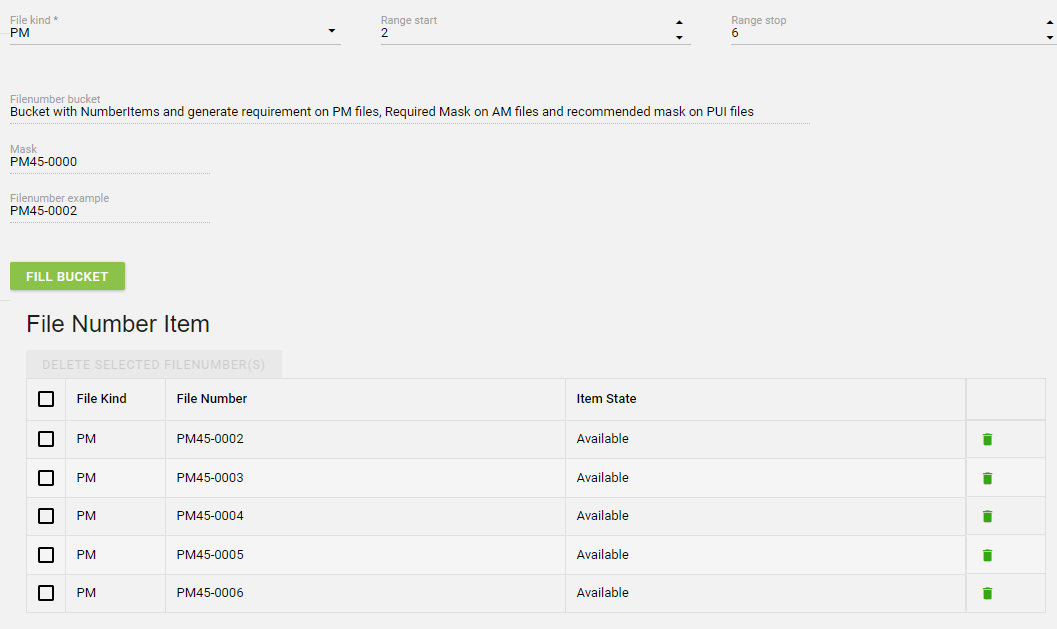 Edit bucket
To edit an file number bucket click on the Edit icon in the row of the file number bucket to be edited:

Edit the required information and click on "Save".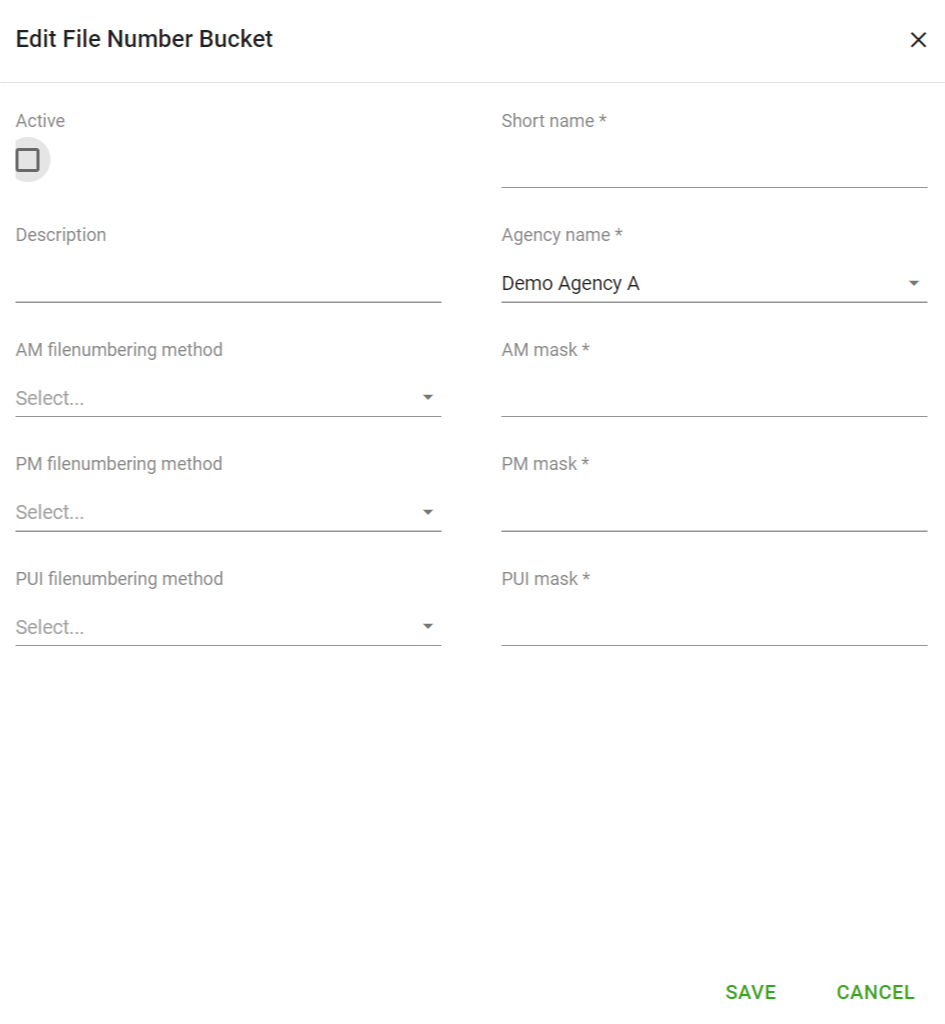 Delete bucket
To delete a file number bucket click on the Delete icon in the row of the file number bucket to be edited:

and then click YES:

Export list of buckets
To export a list of your file number buckets to a file in .xlsx format click the Export all data button: